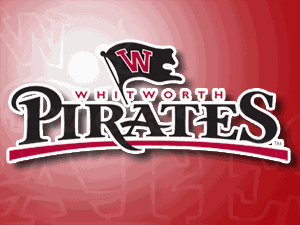 WALLA WALLA, Wash. – Isaiah Hernandez made two crucial baskets down the stretch and Ben College made four free throws in the final 16 seconds to secure an 87-82 win for visiting Whitworth over Whitman College in a key Northwest Conference men's basketball game on Tuesday night at Sherwood Center.
The Pirates improved to 20-4 and clinched at least a share of the NWC title at 14-1.  The Blues dropped to 18-6, 13-2.  Both teams will conclude their seasons at Linfield (18-5, 12-2) this weekend, Whitman on Friday and Whitworth on Saturday.
College finished with 23 points while Sam Lees, the current NWC Player of the Week, finished with 21 points, 13 rebounds and four assists.
"Whitman is a really well-coached team and I'm proud of the way our guys performed against them," said Whitworth head coach Damion Jablonski.
After Whitman scored the opening basket Whitworth went on a 17-0 run, including five points by Garrett Hull.  The Blues answered with an 11-0 run to get within 17-13, sparked by consecutive three-point plays from Jaron Kirkley.  The Pirates answered with a 7-0 run, including a three-pointer by Reed Brown, to go back up by 11 points (24-13).  Trailing 30-20 with six minutes left in the half, Whitman went on a 17-7 run to tie the game, but Lees hit a layup with 16 seconds left to give the Pirates the lead at the break.
Kirkley's three-pointer gave Whitman a 42-41 lead early in the second, the first time the Blues led since 2-0.  Whitworth answered with a 6-0 run, capped by a Hernandez jumper, to go back up by five points.  The Pirates held a small lead until Trevor Osborne's three-pointer put the Blues back up 63-62 with under ten minutes to play.
With the game tied 69-69 Whitworth scored five straight, including a three-pointer from the corner by Kea Vargas with just over five minutes to play.  However, Whitman fought back one final time to retie the game 78-78 on another Osborne three-pointer with 1:42 to go.
On the next possession Hernandez drove by the defense, scored, and was fouled with 1:22 left and made the free throw.  After a College steal, Hernandez scored again with 40 seconds left to give the Pirates an 83-78 lead.  After an exchange of possessions and a key defensive stop by the Bucs, College made his free throws in the final 16 seconds to secure the win.
Whitworth's last regular season win at Whitman was January 21, 2014 (84-80).
In addition to leading his team with 23 points, College moved into third place on the Pirates' all-time scoring list (1,737 points), surpassing Heritage Gallery Hall of Famer Jim Doherty.
Lees' double-double was his second of the season and the rebound total was a career-high, allowing the Pirates to hold a 38-32 advantage on the glass.  Hernandez scored 15 of his 19 points in the second half, while Vargas finished with 10 points off the bench.
Whitworth finished the game 50% (35-70) from the floor, but only 5-17 (29%) from three-point range.  The Pirates made 80% (12-15) of their free throws and only turned the ball over 13 times against Whitman's press.
Kirkley finished with 21 points and seven rebounds for the Blues, while Andrew Vickers scored 20 points and Osborne had 11.  Whitman only made 41% (29-71) of its shots and was also 29% (8-28) from three-point range.
Whitworth has clinched its 15th consecutive 20-win season, the second-longest current streak in NCAA Division III behind Wooster (Ohio).