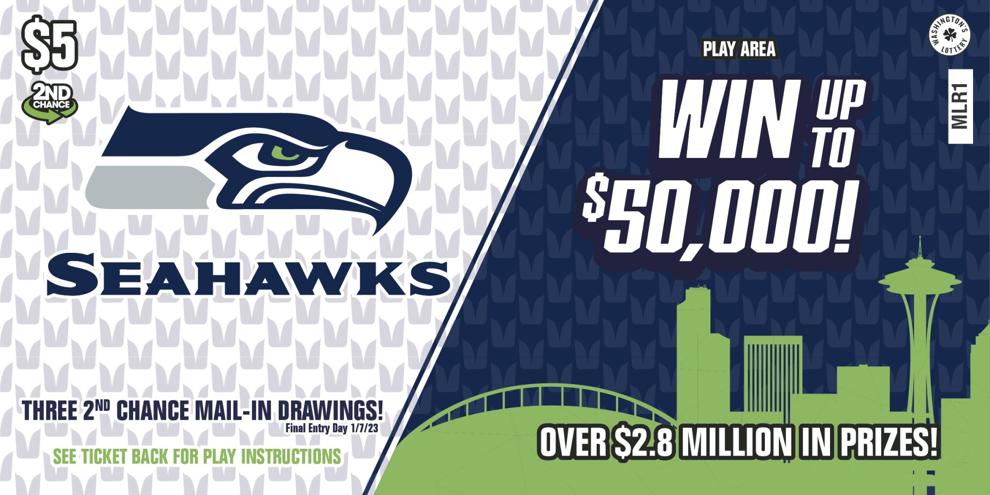 OLYMPIA, Wash. — Washington's Lottery and the Seattle Seahawks are giving fans a chance to win up to $50,000 and much more through the new Seahawks Scratch ticket, which debuts on August 15.
"We're thrilled for another year of working with the Seahawks on fan engagement and are proud to continue our partnership with them this season," said Marcus Glasper, Director of Washington's Lottery. "We enjoy finding new ways to bring fans excitement as we celebrate both the Seahawks and Lottery, so that every day feels like it's game day."
With this game, there's always a second chance. Non-winning Seahawks Scratch tickets may be mailed-in for three second-chance drawings to win an array of cash and cool prizes.
In the first two drawings, eight winners will each win a Gameday Legend Experience, containing a meet and greet with Seahawks Legends Kam Chancellor and Cliff Avril, two charter seat game tickets, a one-night hotel stay, one parking pass, two Verizon Lounge guest passes, one autographed Seahawks replica mini helmet, one pack of 50 Seahawks Scratch tickets, one $200 Visa gift card, and one $200 Seahawks Pro Shop gift card.
Eight other winners will win the Gameday Ready Package, which includes two charter seat game tickets, a parking pass, and a $50 Visa gift card. An additional eight winners will win a $200 Seahawks Pro Shop gift card.
During the third drawing, two winners will win one pair of Seahawks 2023 season tickets, three winners will win a $1,200 cash prize, six winners will win a $200 Seahawks Pro Shop gift card, and 12 winners will win a Seahawks co-branded corn hole game.
"The Seahawks are excited to continue our long-standing partnership with Washington's Lottery to bring unique and fun Seahawks-themed prizes to our fans," said Seahawks Chief Revenue Officer, Amy Sprangers. "We are proud that campaigns like Seahawks Scratch help support the Lottery's efforts to fund important community programs, including education initiatives for youth across the state."
Seahawks Scratch tickets cost $5 each and will be available through Washington's Lottery authorized retailers. Second chance drawings will take place on October 12, November 30, and January 11. To be eligible for the October 12 drawing, entries must be received by October 8, for the November 30 drawing, entries must be received by November 26, and for the January 11 drawing, entries must be received by January 7.