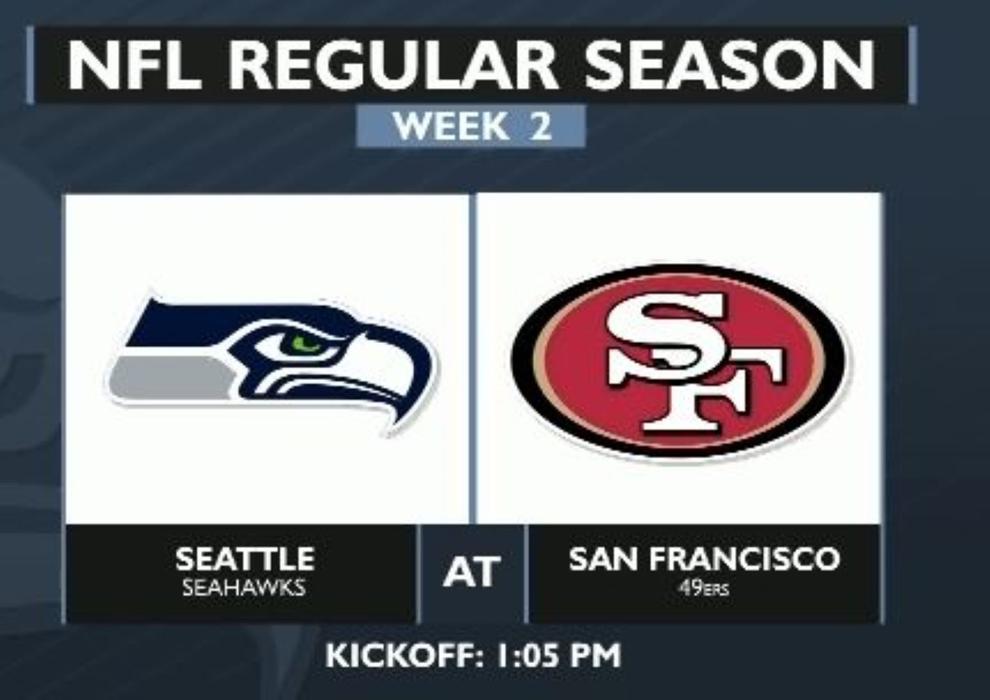 SANTA CLARA, CALIF. — Coming off an upset win against Russell Wilson and the Denver Broncos, the Seattle Seahawks look to continue their winning ways in Week 2 of the 2022-23 NFL season.
The Hawks will travel to the Bay Area to face off against their NFC rival the San Francisco 49ers. The 49ers lost their season opener against the Chicago Bears at Soldier Field last Sunday and are looking to get their first win of the year.
Last time these two teams played against each other, the Seahawks beat the 49ers at Lumen Field 30-23. The 49ers got within five yards of tying the game but could not convert of 4th down late in the 4th quarter, giving the Seahawks the victory.
A 49er player that played well the last time these two teams played against each other was tight end George Kittle. Kittle had nine receptions for 181 yards and two touchdowns on the day. However, there is a chance that Kittle doesn't play on Sunday due to a groin injury. He is listed as "questionable" on the injury report, and head coach Kyle Shanahan says he is a game-time decision.
This is the first time in the last 10 years that Wilson won't be part of this NFC west rivalry. But as shown last week, you cannot count out the Seahawks regardless of who they have behind center. Seahawks QB Geno Smith had a very efficient game last week in the Seahawks' 17-16 victory on Monday night. The new Seahawks play caller completed 23 passes on 28 attempts, racking up 195 yards and throwing for two touchdowns, finishing the night with a 119.5 QBR rating.
DK Metcalf and Tyler Lockett will look to have a bounceback game against the 49ers secondary. The two receivers combined for 64 yards in last week's win, with Metcalf getting seven receptions and Lockett only getting three. Linebacker Jordan Brooks will look to build off of his performance Monday night after totaling 10 tackles.
Second-year QB Trey Lance will be under center for the 49ers on Sunday. Lance came in the second half when the 49ers hosted the Seahawks last season. In the 30 minutes he played, the dual-threat QB completed 50 percent of his throws and threw for two touchdowns, adding 41 rushing yards to his stat line. Lance's second-half efforts weren't enough to give the 49ers the victory, losing to the Seahawks 28-21.
The last time the 49ers beat the Seahawks was in 2019 when they beat them on the last day of the 2019-20 NFL season to win the NFC West. Since then, the Seahawks have gone 4-0 against them in the regular season, winning both matchups in the 2020-21 season and the 2021-22 season.
The 49ers come in as 9.5-point favorites at home. Kickoff is at 1:05 p.m.
RELATED: Football and charity; the pillars of the Spokane Valley Sea Hawkers