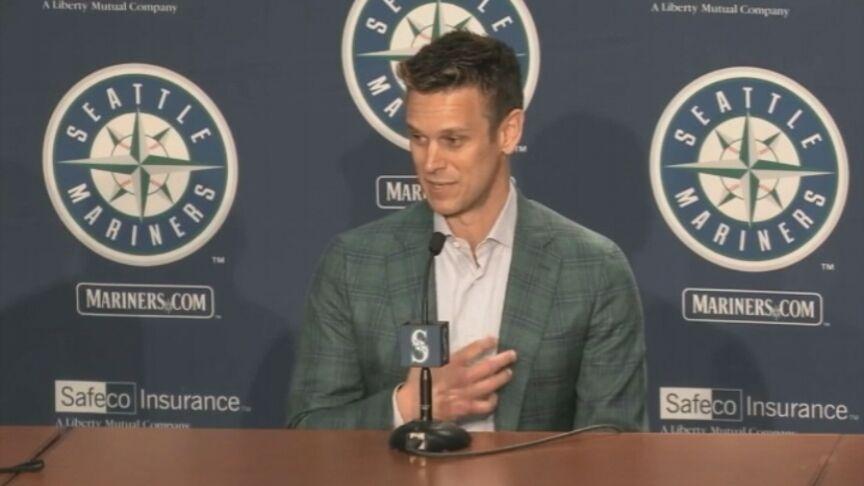 SEATTLE, Wash. – The MLB has a few major details to tackle before they begin their regular season.  When and where "Spring" training will be held, and for how long? How will players be tested, and will they be playing in front of giant, empty stadiums?
Those were addressed in the MLB's proposal to the MLB Players Association earlier this week, and there has been no approval so far.
But Seattle Mariners general manager Jerry Dipoto had some pointed words on 710 ESPN Seattle's radio show with Danny and Gallant Thursday morning.
"My urge is, as we develop culture and as we develop character with our club, understand that there's a big world around you, and there are a lot of people suffering. Don't whine, just go play." – Mariners GM Jerry Dipoto (Interview starts at 28:20) https://t.co/lGabKL6ZAO

— Joe Veyera (@JoeVeyera) May 21, 2020
There are two main formats to pay players in a shortened season being tossed around. The first, favored by owners, is a 50/50 split of the revenue earned in whatever number of games they play. Players don't like that idea because it's essentially a salary cap, something the MLB has never had.
The economic side of the proposal is expected within the next couple of days.
Option number two, the one players favor, is a prorated salary based on the player's current contract based off the number of games played in 2020.
Based on the lengthy proposal the MLBPA received from MLB officials, one MLB Network insider, Joel Sherman tweeted details on the player response.
2/ •testing frequency
•protocols for positive tests
•in stadium medical personnel
•protections for high risk players and family
•access to pre and postgame therapies
•sanitization protocols

— Joel Sherman (@Joelsherman1) May 21, 2020
There is currently no date set for the return of Major League Baseball, but they hope to start in early July.